Please keep checking back for more recipes to come!
Stuffed French Bread
INGREDIENTS
1 loaf french bread
1 pound North Fork Farm ground beef
2 Tablespoons finely chopped onion
1/2 cup chopped celery
1 teaspoon minced garlic
1 can cream of mushroom soup
2 Tablespoons milk
2 teaspoons Worcestershire sauce
salt and pepper, to taste
1 1/2 cups shredded cheddar cheese
1/2 Tablespoon chopped parsley (optional)
Preheat oven to 350° F. Slice the french bread in half, lengthwise, so you have two equal pieces. Scoop out the bread in the center of each piece. Place bread in a large bowl and tear into small chunks. Set the two halves of french bread onto a large baking sheet. Set aside.
Brown the North Fork Farm ground beef and onion in a large skillet, over medium-high heat. Drain any grease. Add the celery and garlic to skillet. Cook a few minutes until celery is tender. Next, add soup, milk and Worcestershire sauce. Season with salt and pepper. Stir and cook mixture until heated; another 5 minutes or so.
Add the beef mixture to the bread in the large bowl. Stir to combine. Pour mixture into the center of one half of the french bread. Spread out evenly. Top the mixture with the shredded cheese. Top with the other half of bread.
Bake for 10 to 15 minutes, or until cheese is melted. Remove from oven and let stand 5 minutes before slicing and serving. Enjoy!
North Fork Farm Slow Cooker Pork Loin or Tenderloin Recipe
Ingredients
3 lb North Fork Farm pork loin or tenderloin, trimmed and cut little slits all around the pork
1½ tsp garlic powder
½ tsp ground ginger
1½ tsp onion powder
½ tsp kosher salt
½ tsp dried thyme
½ tsp freshly cracked black pepper
2 TB vegetable oil
2 cups chicken broth
2 TB lemon juice
2 TB regular soy sauce
3 TB cornstarch, dissolved in 3 TB water
salt and pepper to taste
Directions
In a small bowl, combine garlic powder, ground ginger, onion powder, salt, thyme, and pepper, whisking to combine. Rub seasoning all over the entire surface of pork loin.
Heat oil in a large skillet until very hot. Brown pork loin on all sides.
Transfer pork loin to slow cooker. Add chicken broth, lemon juice, and soy sauce. Pour over the pork. Cover and cook on low for 7-8 hours. (If using tenderloins, reduce cook time to about 4 hours.)
When finished, baste pork loin and transfer the pork to a plate and keep warm.
Pour all the liquid from the slow cooker into a sauce pan. Add dissolved corn starch. Stir well. Cook on medium heat, stirring constantly, until sauce turns thick and gravy-like. Season with additional salt and pepper, if desired.
Serve warm roast with gravy.
North Fork Farm Loaded Potato and Buffalo Chicken Casserole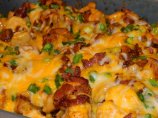 Ingredients
2 lbs North Fork Farm boneless skinless chicken breasts or tenders, cut into 1/2-inch cubes
8 -10 medium potatoes, cut into 1/2-inch cubes ( I leave the skin on)
1/3 cup olive oil
1 1/2 teaspoons salt
1 tablespoon fresh ground pepper
1 tablespoon paprika
2 tablespoons garlic powder
6 tablespoons hot sauce
Topping
2 cups fiesta Mexican blend cheese or 2 cups monterey jack and cheddar cheese blend
1 cup crumbled cooked bacon
1 cup diced green onion
Directions
Preheat oven to 500F (This is NOT a typo, 500F is correct!) .
In a large bowl mix together the olive oil, hot sauce, salt, pepper, garlic powder & paprika.
Add the potatoes and stir to coat.
Add the potatoes to a greased baking dish.
When scooping the potatoes into the baking dish, leave behind any extra olive oil/hot sauce mix.
Add the diced chicken to the "left behind" olive oil/hot sauce mix and stir to coat all the chicken. Allow to marinate as the potatoes bake.
Roast the potatoes for 45-50 minutes, stirring every 10-15 minutes, until cooked through and nice and crispy on the outside.
Once the potatoes are fully cooked add the marinated chicken.
Bake 15 minutes or until until the chicken is cooked through and the topping is melted and bubbly delicious.
Serve with extra hot sauce and/or ranch dressing.
NORTH FORK FARM MEATBALLS
To prepare: Preheat oven to 400 degrees.   –  Makes approximately 42 meatballs
Ingredients
Directions
1 lb. North Fork Farm ground beef1 lb. North Fork Farm sausage1/2 cup bread crumbs1 egg1/4 cup milk3 Tbsp. minced garlic1 tsp. mustard

1/8 tsp. nutmeg

1/8 tsp. salt and pepper

In a bowl, mix meat with egg, bread crumbs, milk, garlic, mustard, nutmeg, salt and pepper.  Roll mixture into 1 inch balls and arrange on a non-stick baking sheet.  Bake for 12 -15 minutes.  Serve alone or with your favorite sauce.  Enjoy!
Prep Time: 20 Minutes

Cook Time: 20 Minutes

Ready In: 40 Minutes

Servings: 6
"A Parmesan crust lifts these chicken nibbles above the ordinary. Serve alone or with an array of dipping sauces."
INGREDIENTS:
3 North Fork Farm skinless, boneless chicken breasts or 2 pks. North Fork Farm skinless, boneless chicken tenders

1 cup Italian seasoned bread crumbs

1/2 cup grated Parmesan cheese

1 teaspoon salt

1 teaspoon dried thyme

1 tablespoon dried basil

1/2 cup butter, melted
DIRECTIONS:
| | |
| --- | --- |
| 1. | Preheat oven to 400 degrees F (200 degrees C). |
| 2. | If using breasts, cut chicken breasts into 1 1/2-inch sized pieces. In a medium bowl, mix together the bread crumbs, cheese, salt, thyme and basil. Mix well. Put melted butter in a bowl or dish for dipping. |
| 3. | Dip chicken pieces into the melted butter first, then coat with the breadcrumb mixture. Place the well-coated chicken pieces on a lightly greased cookie sheet in a single layer, and bake in the preheated oven for 20 minutes. Enjoy! |
Salsa Chicken Ole
4 North Fork Farm chicken breasts or
8 North Fork Farm chicken tenders
1 small chopped onion
1 chopped green pepper
1 medium-sized jar of salsa
4 slices of Pepper Jack cheese or 1 cup of shredded cheese of your choice
Place chicken in your slow cooker.  Cover with chopped onion and peppers.  Pour jar of salsa over chicken.  Turn on high for 15 minutes.  Reduce to low for 3 hours.  Before serving, place cheese over chicken.  When cheese is melted, serve over rice.
Fresh Herb Butter
In small bowl, blend 1/2 cup softened butter or margarine and 1 tsp. each chopped fresh basil, thyme and parsley (or your favorite fresh herbs).

Serve the above spread on baked potatoes, on grilled or broiled steak, tossed with hot pasta, or spread on bread and broiled.
We love to spread it on our steaks as they grill……delicious! 🙂
Southwest Skillet
Prep: 10 min.
Cook: 25 min.
Makes: 4 servings
3/4 pound North Fork Farm ground beef
1 tablespoon chili powder
1 can (10 3/4 oz.) Campbell's® Condensed Beefy Mushroom Soup
1/4 cup water
1 can (14.5 oz.) whole peeled tomatoes, drained and cut up
1 can (about 15 oz.) kidney beans or black beans, rinsed and drained
3/4 cup uncooked instant white rice
1/2 cup shredded Cheddar cheese
Tortilla chips
Cook beef and chili powder in 10″ skillet over medium-high heat until beef is well browned, stirring often to separate meat. Pour off fat.
Stir soup, water, tomatoes and beans in skillet and heat to a boil. Reduce heat to low. Cover and cook 10 min.  Remove skillet from heat.
Stir in rice. Cover skillet and let stand 5 min. Sprinkle with cheese. Serve with tortilla chips.
This is a delicious meal served over brown rice!
Chicken Stir-Fry
Recipe Yield 4 servings
Ingredients
4 (4 ounce) boneless skinless chicken breast halves
3 tablespoons cornstarch
2 tablespoons soy sauce
1/2 teaspoon ground ginger
1/4 teaspoon garlic powder
3 tablespoons cooking oil, divided
1 lb. bag of frozen stir fry vegtables
1 cup water
1 teaspoon chicken bouillon granules
Directions
1.     Cut chicken into 1/2-in. strips; place in a resealable plastic bag. Add cornstarch and toss to coat. Combine soy sauce, ginger and garlic powder; add to bag and shake well. Refrigerate for 30 minutes.
2.     In a large skillet or wok, heat 2 tablespoons of oil; stir-fry chicken until no longer pink, about 3-5 minutes. Remove and keep warm. Add remaining oil; add stir fry vegtables for 4-5 minutes or until crisp-tender. Add water and bouillon. Return chicken to pan. Cook and stir until thickened and bubbly.
A delicious and hardy one dish meal!
Hobo Dinner
Recipe Yield 4 servings
Ingredients
4 hamburger patties or 1 pound ground beef
5 potatoes, peeled and cut into steak fries
4 large carrots, peeled and sliced lengthwise
1 onion, peeled and sliced into rings
salt to taste
ground black pepper to taste
garlic salt to taste
Directions
1.     Preheat oven to 400 degrees F (200 degrees C). Line a 9×13 inch baking pan with aluminum foil.
2.     Place patties into pan or shape the ground beef into patties and place in pan. Layer the vegetables on top of the beef patties,
starting with the potatoes, then carrots and finally onion rings. Season with salt, pepper and garlic salt to taste.
3.     Cover with aluminum foil and seal edges. Bake in preheated oven for 1 hour, or to desired doneness.
Quick Dinner Recipe……
Steak Fingers with Honey-Mustard Sauce
Ingredients:
1 1/2 lbs. cube (tenderized) steak, cut into strips
Coating Ingredients:
2 C flour
1 Tbsp. season salt
1 tsp. paprika
1 Tbsp. garlic powder
1 tsp. salt
Egg Bath:
2 eggs, beaten
Honey Mustard Dipping Sauce:
1 C. Dijon mustard
1/2 C. honey
1/2 teas. dill
Directions:
Preheat oven to 350 degrees. Dip steak into coating mixture, then in the egg bath, then in coating mixture again.  Place in a foil lined baking dish.  Continue with each piece of cube steak.  Bake for approximately 25 – 35 minutes, depending on the size of your strips.  Mix dipping sauce ingredients together.  Serve steak fingers with sauce on side.  Delicious!
This is one of our family favorites!
Holiday Stuffed  Meatballs
5-6 slices of bread, torn up
3/4 cup milk (eyeball it)
2 pounds ground beef
4 cloves garlic, gratedor finely chopped
A small handful of flat leaf parsley, chopped
1/2-3/4 cup grated Parmesan cheese
1 teaspoon allspice
1 egg
Salt and freshly ground black pepper
4 string cheese sticks, cut each stick in quarters.
2 tablespoons extra virgin olive oil (EVOO), plus additional for drizzling, divided
Pre-heat the oven to 425ºF.

 Place the torn bread in a small bowl with the milk (make sure all the bread is submerged) and reserve.

 In a large bowl, combine the ground beef, garlic, parsley, grated Parmesan cheese, allspice, egg, salt and freshly ground black pepper. Squeeze out the excess milk from the soaking bread (it should be loose and in small pieces) and add it to the meat mixture. Mix everything with your hands to combine.

Divide the meatball mixture in half and score each half into eight sections with the back of your hand. Take one of the portions of the meatball mix and slightly flatten it out in your hand. Place a cheese quarter in the center and evenly wrap the meat around the cheese, completely encasing it in the meat. Transfer the stuffed meatballs to a baking sheet. Repeat the processes until the rest of the cheese quarters have all been rolled in a portion of the meatball mixture. Wash your hands after handling the raw meat.

Drizzle the stuffed meatballs with some EVOO, transfer them to the oven and roast for 15-18 minutes, until golden brown and firm to the touch. Enjoy!
Golden Chicken Tenders
Ingredients
1 pk. chicken tenders
1/2 cup finely crushed dry stuffing mix
2 Tbsp. melted butter or margarine
1 egg, beaten
1/2 cup milk
Directions
1.    Preheat oven to 350 degrees F (175 degrees C).
2.    Line a 9×13 inch baking dish with foil.
3.    Combine the stuffing mix with the melted butter or margarine.
4.    Dip chicken in beaten egg, milk, then coat chicken in stuffing mixture.
5.    Bake in the preheated oven for 35-40 minutes.
North Fork Farm Sausage and Cheese Crescent Squares
INGREDIENTS:
2 cans (8 oz each) refrigerated crescent dinner rolls
1 lb hot or mild North Fork Farm sausage
1 package (8 oz) cream cheese
2 cups shredded sharp Cheddar cheese (8 oz)
DIRECTIONS:
•    Heat oven to 375°F.
•     Unroll 1 can of dough into 2 long rectangles. Place in ungreased 13×9-inch (3-quart) glass baking dish; press over bottom and 1/2 inch up sides to form crust.
•    In 12-inch skillet, cook sausage over medium heat, stirring frequently, until no longer pink. Remove sausage from skillet; discard drippings. To same skillet, add cream cheese. Cook over low heat until melted. Add cooked sausage; stir to coat. Spoon evenly over crust in baking dish. Sprinkle with cheese.
•     Unroll second can of dough on work surface. Press to form 13×9-inch rectangle; firmly press perforations to seal. Carefully place over cheese.
•    Bake 21 to 26 minutes or until golden brown. Cool 15 minutes. Cut into small squares.
Delicious Honey Ribs
INGREDIENTS:
1 (10.5 ounce) can beef broth
3 tablespoons honey mustard
1/4 cup honey
1/2 cup water
1/4 cup honey barbeque sauce
1/4 cup soy sauce
1/4 cup maple syrup
3 pounds North Fork Farm Beef or Pork ribs
DIRECTIONS:
1. In the crock of a slow cooker, mix together the beef broth, honey mustard, honey, water, barbeque sauce, soy sauce, and maple syrup.  Place ribs into the slow cooker so that they are covered by the sauce. If there is not enough sauce, you may add a little water or beef broth to compensate.
2. Cover, and cook on High for 5 hours, or until the meat falls easily from the bones.
Double Orange Glazed Pork Chops
Ingredients:
1 cup orange juice
1/3 cup orange marmalade
3 Tbsp. butter
4 Tbsp. oil
4 North Fork Farm Pork Chops
1 tsp. salt
¼ tsp. pepper
Directions:
In a small bowl, mix together the orange juice and marmalade.
Heat the butter and vegetable oil in a large skillet over medium heat. Season the pork chops with the salt and pepper. Add the chops and cook, turning once, until just cooked through, 6 to 8 minutes total. Transfer the chops to a platter and cover loosely with aluminum foil.
Pour off all but 3 tablespoons of drippings from the skillet and add the orange juice mixture. Raise the heat to medium-high and stir, scraping up the brown bits on the bottom of the pan, until the sauce is reduced and slightly syrupy, 6 to 8 minutes. Return the pork chops to the pan, reduce the heat to medium, and cook, turning the pork chops a few times in the sauce.
Transfer the chops to serving dishes and drizzle with some of the sauce. Pour the remaining sauce into a bowl and serve alongside the chops.
Try this delicious recipe with a North Fork Farm Roast!
Roast Recipe.docx