If you would like to sign up for our 2018 Spring/Summer CSA, please submit your application below.
Full payment is due by April 6th
Payments can be mailed to:
North Fork Farm 680 North Fork Road Zionville, NC 28698
The Fall/Winter Meat CSA members
will receive a monthly delivery
beginning in October
and it will run through February.
Pick up dates are as follows…
Monday, October 9th
Monday, November 13th
Monday, December 11th
Monday, January 8th
Monday, February 12th
Pick up is at 4:45 – 5:15 pm – Back parking lot of
NC Extension Office 971 West King Street in Boone, NC.
*Dates are subject to change as our schedules changes, for the most part we will leave it on theses days, unless there is no other option on our end.
Please feel free to contact us at 828-297-5755
with any questions you may have.
*Half share members receive approximately a 7- 10 lb. box monthly, of different cuts of beef, pork and chicken, at a cost of $350 for the contract period. This box works well for single persons, couples or a small family.
*Full share members receive approximately a 17-20 lb. box monthly, of different cuts of beef, pork and chicken, at a cost of $600 for the contract period. This box works well for families of 3 or more.
When you become a CSA member you also receive an additional 10% off any additional orders.
We only have 15 shares available, and they tend to go quickly.
For your convenience, we allow split payments to be made, prior to the first CSA delivery . If you have any questions, please feel free to contact us via our contact page or by phone at 828-297-5755.
To sign up for the CSA, please complete and submit the form below or download printable PDF that you can complete and return to us by mail:
North Fork Farm Meat CSA Agreement
North Fork Farm is committed to distributing quality beef, pork and chicken to you, our CSA member. While providing you with these delicious meats, we promise to run our operation in an efficient and trustworthy manner. Our meats are USDA inspected, vacuum packed, and raised without antibiotics or added hormones. North Fork Farm promises to provide you with the delivery of your share of frozen meats every month for 5 months.
As a North Fork Farm CSA member, you promise to understand the challenges related to raising, processing and delivering beef, pork and chicken.
1. You will promise to be flexible around the types of cuts you receive in your CSA box. At North Fork Farm we are aware of the value of different cuts of meat and we promise to make an effort to distribute the meats fairly so that the value of each box is approximately the same.
2. You promise to work with us to arrange a time to be available to receive your box on pick up day. Pick up dates, time and location will be scheduled at the beginning of the CSA season. Please note that if you are unable to receive your box at the scheduled time, we will charge a $10 fee for rescheduling.
We are committed to sharing information from the farm with you throughout the season via email, through our Facebook page, or via the website at www.northforkfarmbeef.com. We use an email list for reminders of scheduled pick up days, farm news and recipes.
Together we will be making our food system happier, healthier and more sustainable. When you choose North Fork Farm you're supporting North Carolina family farmers and their rural communities. We know that when you do the right things you get the right results. For us that means our passion for every detail brings you the finest tasting meats, raised without antibiotics and hormones, at a reasonable price. Please feel free to contact us to answer any questions you may have. We look forward to being part of your local food community and getting to know you better.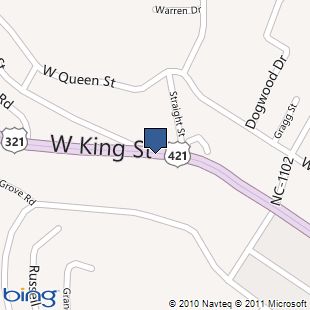 Our pick up point is at the North Carolina Cooperative Extension Office located at 971 West King Street in Boone, NC. They have been great to work with us and this seems to be a great central location for our clientele.
Please feel free to contact us if you have any questions at 828-297-5755/828-773-0305
or via our contact page.
Community Supported Agriculture
Thinking about signing up for a CSA but want to learn more about the idea before you commit? Read on.
Over the last 20 years, Community Supported Agriculture (CSA) has become a popular way for consumers to buy local, seasonal food directly from a farmer. Here are the basics: a farmer offers a certain number of "shares" to the public. Typically the share consists of a box of meat, but other farm products may be included. Interested consumers purchase a share (aka a "membership" or a "subscription") and in return receive a box (bag, basket) of product bi-weekly throughout the farming season.
This arrangement creates several rewards for both the farmer and the consumer. In brief…
Advantages for farmers:
• Get to spend time marketing the food early in the year
• Receive payment early in the season, which helps with the farm's cash flow
• Have an opportunity to get to know the people who eat the food they grow
Advantages for consumers:
• Eat local ultra-fresh food, with all the flavor and vitamin benefits, and stock your freezer for convenience.
• You are welcome to visit the farm
• Find that kids typically favor food from "their" farm
• Develop a relationship with the farmer who grows their food and learn more about how food is grown and support the local economy!
It's a simple enough idea, but its impact has been profound. Tens of thousands of families have joined CSAs, and in some areas of the country there is more demand than there are CSA farms to fill it.